Why You Believe What You Believe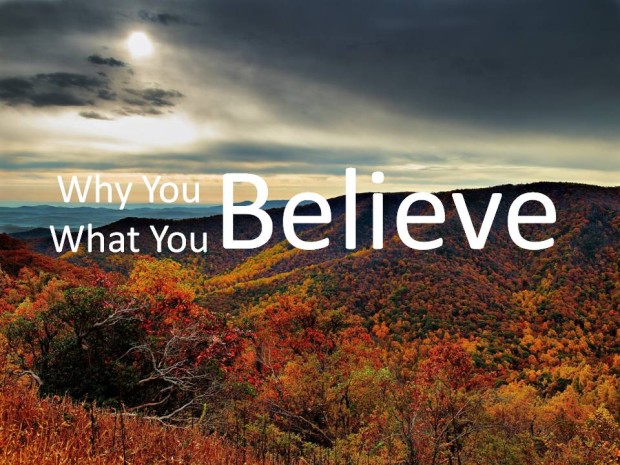 (Picture courtesy http://www.forestwander.com)
Do You Even Know Why You Believe Something Religiously?
Why do you believe, what you believe religiously? This includes believing nothing religiously, which in effect is your religious belief.
The reasons for your religious beliefs are typically more emotional, more associated with friends or family. Friends or family may influence you to believe what they believe or influence you to oppose what they believe.
Below are some typical reasons why people believe what they believe:


> I was raised in a family which held this belief and now I embrace it.
> I had this experience and believe God was responsible and it moving me to believe the bible.
> I prayed and my prayer was answered and thus my belief is associated with the group who told me to pray.
> Some very powerful teachers convinced me of the doctrine I now believe – I trust them.
> I married a person who holds this belief and I committed to believe also.
> I studied various religions including the atheist belief and selected the best one.
> I believe the doctrine taught at the place I go to church and they have great programs and facilities and are represent a good place to raise a family.
> Since one belief is as good as another, I believe the teaching of the place I worship which also has many people influential in my business, thus the best of both worlds.
> I believe because I cannot imagine my family and friends with the same beliefs being wrong.
> I have a great peace when I am with people of this belief system.
> I am impressed with the solemn nature of worship of this certain group and enthusiastically follow their belief system.
> The enormity (the number of people) of this religious group, their visual magnificence, their beautiful singing and music all led me to align with their beliefs.
> The outstanding character of the people associated with this religion tells me these are the people of God and I accept their beliefs.
> I believe what I believe out of fear:
….>> of losing my family or friends
….>> of losing my job
….>> of losing my life
….>> of being outcast from the community
> I believe in nothing except what I see because there is nothing beyond this life.

All these reasons and yet is there any guarantee you have the truth? If you would be thoughtful, honest and just want the truth at any cost you would admit these are not sufficient reasons to risk your eternity. One thing matters in your life and that is your success or failure and the advice of Heaven Coach is to understand what you believe and be more serious about this than anything else. Complimentary advice is not to believe anyone including this author. So all these reasons are not sufficient and or are they even reasonable for you to place your eternity in the hands of something that MIGHT be true. Many of these reasons might be fine reasons regarding why you participate in some club or activity but we are talking about your eternity and you need the truth.


Here Is What You Need To Understand

The world has brought confusion to what God wants you to know. God has allowed people a free will and many do not want God in their lives and certainly not the God of the bible. They would like others to believe the same way. Religion has brought even more confusion to the truth and consequently religion is frequently more detrimental than those who deny God. So here is what you need to know and then of course, YOU validate it:

God's plan for mankind is moving along through time just as God planned. God is looking for those who seek Him with their whole mind, body and spirit. They love the truth and out of the world God will find those who love Him, that is those who are obedient to Him. As you begin to understand God you will see that men's ideas about God are not true. The truth comes only from God. For example, men typically think God will be saving most of the human race, that is they will achieve heaven. However, this is not what God reveals but instead few will succeed. God makes it clear it is not what He wants but that this will be the result. One can have many questions in relation to this matter, such as why create man if most will fail or how does God know few will succeed. Suffice it to say, God knows what He is doing, God is perfect in justice and will only reconcile those who have a relationship with His Son. The better you understand God as He has revealed himself the easier it will be for you to be comfortable with how and why God is dealing with His creation.


What You Believe And How You Respond To That Belief Is Eternally Important
The general problem is that people underestimate the effort required to be successful in life. Life is not taken seriously and then your life ends and NOW it is serious and also too late. God's plan requires you to take life seriously while you exist in the body. Indeed, there is a lot to overcome and it may seem impossible to overcome but God provides a great deal of help if in your (humble) attitude you take God's advice. The magnitude of the effort is described in Deuteronomy 4.29 as seeking God with all your heart, all your soul and all your strength.
Deuteronomy 4:29
29 "But from there you will seek the LORD your God, and you will find Him if you seek Him with all your heart and with all your soul.
Similarly, Deuteronomy 6.5 describes the necessary extent of your love for God.
Deuteronomy 6:5
5 You shall love the LORD your God with all your heart, with all your soul, and with all your strength.
Jesus then emphasizes this in Matthew 22.37.
Matthew 22:37
37 Jesus said to him, " 'You shall love the LORD your God with all your heart, with all your soul, and with all your mind.'



Finally one more verse indicating this common theme, Jeremiah 29.13 points to seeking God and the effort required.
Jeremiah 29:13
13 And you will seek Me and find Me, when you search for Me with all your heart.
God of course, would be very much aware of all those who would pervert the truth and the solution to that dilemma is to SEEK God with all your heart. Yes, there is something to overcome. Life itself is challenging and now to succeed you have to figure out the truth, obey it an live it. The strangest thing is that the truth is so clear and the lies are so ridiculous. Believing there is no God is contrary to common sense and the arguments of atheists are just nonsense to those who look closely. Indeed, if you look closely at Atheism you will see that man-made religion is frequently the backbone of the objection to God. The other significant reason is that the God of the bible opposes many things that people highly desire and when that God points to punishment it is offensive. Catholicism, Islam, Protestantism, Mormonism and all the other religions are easily dismissed, but you have to overcome the reasons for believing these religions that have captivated the masses. Many of which, are provided at the top of this page.
You seek God to understand Him. You need to know His purpose and His plan and how to succeed and these understandings are critical to your success. This is what you are to BELIEVE (the TRUTH) and the reason you believe is because there is evidence upon evidence for those who seek the truth. Faith is required but that faith in God leads to more and more evidence and the unseen becomes less unseen and eventually there is clarity. Heaven Coach is trying to bring you from Hebrews 11.6 to 1 Peter 2.1-3/Ephesians 5.15-17 and then to 1 Peter 1.6-9. That is from faith to growth to realization of heaven. This is, "why you believe what you believe."

FAITH
We see it is impossible to please God WITHOUT FAITH, but so many think faith is a mystery but it is not because faith comes from the word of God. So faith is believing God to the point of obedience.
Hebrews 11:6
6 But without faith it is impossible to please Him, for he who comes to God must believe that He is, and that He is a rewarder of those who diligently seek Him.
Hebrews 11:3
3 By faith we understand that the worlds were framed by the word of God, so that the things which are seen were not made of things which are visible.
So, in these verses we see God rewards those who DILIGENTLY seek Him. Again, this idea of a serious, devoted effort to find God is emphasized in scripture. We can see God in creation but by faith we understand God is the God of the bible.

GROWTH
The unseen is becoming more seen as you grow in the knowledge of God through His word. Growth is essential or you will not maintain your faithfulness. The promise (of heaven) is to those who remain faithful until death (Revelation 2.10).
1 Peter 2.1-3
1 Therefore, laying aside all malice, all deceit, hypocrisy, envy, and all evil speaking,
2 as newborn babes, desire the pure milk of the word, that you may grow thereby,
3 if indeed you have tasted that the Lord is gracious.
Your growth needs to be expressed in your daily walk, being an accurate, wise walk.
Ephesians 5.15-17
15 See then that you walk circumspectly, not as fools but as wise,
16 redeeming the time, because the days are evil.
17 Therefore do not be unwise, but understand what the will of the Lord is.

Your reason for believing grows as you grow in knowledge from God, that is from God's word.

REALIZATION OF HEAVEN – SALVATION RECEIVED
Then the outcome of faithfulness is rewarded.
1 Peter 1.6-9
6 In this you greatly rejoice, though now for a little while, if need be, you have been grieved by various trials,
7 that the genuineness of your faith, being much more precious than gold that perishes, though it is tested by fire, may be found to praise, honor, and glory at the revelation of Jesus Christ,
8 whom having NOT SEEN you love. Though now you do not see Him, yet believing, you rejoice with joy inexpressible and full of glory,
9 RECEIVING THE END OF YOUR FAITH—THE SALVATION OF YOUR SOULS.

Eventually things unseen become seen or more certain. Paul originally was persecuting Christ but as He grew in the knowledge of God, he was very certain about what he was doing and looked forward to being with Christ eternally. Paul wanted the saints in the churches to grow and also become certain so they would remain faithful until death. Jesus left His church with the remembrance of his death to be recalled each week to strengthen the saints. The growth in knowledge comes from God's word and as we see all things fitting perfectly together we can be overwhelmed with certainty. Our faith, that is our actions in obedience to God are done with a higher level of commitment and vigor. God's children grow in the process outlined above and that growth brings confidence and boldness as we fully realize we are doing God's will.
Ephesians 3. 11,12
11 according to the eternal purpose which He accomplished in Christ Jesus our Lord,
12 in whom we have boldness and access with confidence through faith in Him.
God expects growth and there is no larger reason than the fact that God has left the gospel message in the hands of His children. God saves by preaching, the gospel being God's Power to save (Romans 1.16).
Colossians 1:9,10
9 For this reason we also, since the day we heard it, do not cease to pray for you, and to ask that you may be filled with the knowledge of His will in all wisdom and spiritual understanding;
10 that you may walk worthy of the Lord, fully pleasing Him, being fruitful in every good work and increasing in the knowledge of God;
When you correctly understand faith you see it is not independent of action but faith that has value is seen in obedience and thus we see Jesus is the author of eternal salvation to all those who obey him.
Hebrews 5:9
9 And having been perfected, He became the author of eternal salvation to all who obey Him
The correct answer to, "why you believe" is very simply, because it is the truth! The correct answer to, "what you believe" is to believe the truth!

John 17:14-18
14 I have given them Your word; and the world has hated them because they are not of the world, just as I am not of the world.
15 I do not pray that You should take them out of the world, but that You should keep them from the evil one.
16 They are not of the world, just as I am not of the world.
17 Sanctify them by Your truth. YOUR WORD IS TRUTH.
18 As You sent Me into the world, I also have sent them into the world.
Said another way, God's word is truth and thus "WHAT you should believe" and you "should believe it BECAUSE" you wish to go to heaven.
---