Faith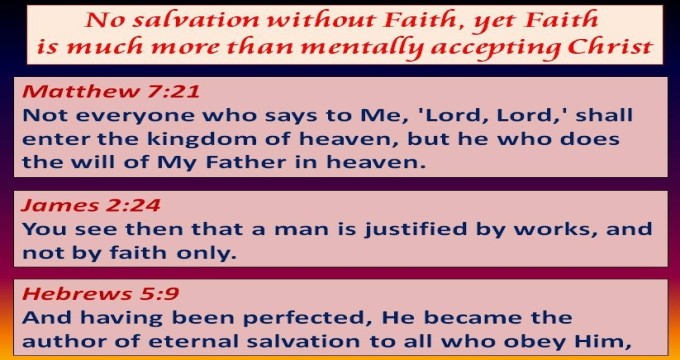 Please check out the links below for more information on the subject of Faith
and

All About Faith
This page provides a great deal of what Faith is in the links above and then below discusses the major Protestant error taught in the matter of FAITH. This error is began with Martin Luther and has been embraced by millions and millions of people. They call themselves Christians but are not because of this doctrine. Martin Luther called it Sola fide (Latin: "by faith only"), justification by faith alone. Martin Luther was doing a wonderful thing in escaping from the tyranny of Catholicism and I think many people for this reason think more highly of his scholarship in matters of faith. Yet he was just a man and not inspired of God. Clearly each person will make a decision to follow after Luther and those who accepted different versions of "Faith Only Salvation" or accept the things from God. People who believe "Faith Only Salvation" would like to think there is no difference between Luther's "Faith Only Salvation" and Scripture but indeed they are much, much different.



I have taken some small sections from chapter 16.3 of my book, "What Is Life All About?" on the subject of Protestantism and include them below. These are sections relative to salvation by Faith alone.
"Accepting Christ as your personal savior"
Fundamentally, faith-only salvation originated with Martin Luther's study of the book of Romans and has become the centerpiece of salvation for most Protestant churches. One man has had such an influence and a man admired for his courage, but he was very, very wrong on this idea. He lives as an example of why we cannot trust any man when it comes to eternity. "Accepting Jesus as your personal savior" is a modern day expression of Martin Luther's "faith-only salvation." Since the use of radios, preachers have appealed to their listeners to place their hands on the radio and accept Jesus into their hearts for salvation. It is a terrible thing to tell people! Despite the teachings of so many "respected" men, the idea of accepting Jesus as your personal savior as all that is required to save your soul is totally against scripture. See God Defines Believe.



Many Protestants make "accepting Jesus as your personal savior" equivalent to what is called being born-again, and it is not the same thing. We have all these hundreds of so-called Christian religions because people have been careless with the truth. Just like Judaism, Catholicism, Islam, Mormonism are false, so is the popular religious idea of "accepting Jesus as your personal savior." None of these in the end will provide for you what you want. That is, the best ending to your life. In fact, you are propagating error as you participate in false doctrine.



Volumes could be written showing that "accepting Jesus as your personal savior" does not put you into any special position with God. Allow me to use just one very simple "Bible" example to show you the dilemma. Jesus in Luke 13.3 said, "I tell you, no; but unless you repent you will all likewise perish." Therefore, do I have the right to teach that you must only repent to go to heaven and nothing else? Is it all you need? Do I have the right to teach belief only, some mental acceptance of Jesus as the total requirement for salvation? Another difficulty of this teaching to "accept Jesus as your personal savior" is that people believe they have Christ but go off into hundreds of different beliefs and practices. An associated doctrine has them believing their salvation cannot be lost.



The truth, however, is much different and much more demanding. Where God speaks, there must be obedience. God requires that you do all He commands in order to become a child of His and then continue to follow His instructions the rest of your life.
Matthew 28.20
20 teaching them to observe all things that I have commanded you; and lo, I am with you always, even to the end of the age." Amen.
Revelation 2.10
10 Do not fear any of those things which you are about to suffer. Indeed, the devil is about to throw some of you into prison, that you may be tested, and you will have tribulation ten days. Be faithful until death, and I will give you the crown of life.
1 Corinthians 15:58
58 Therefore, my beloved brethren, be steadfast, immovable, always abounding in the work of the Lord, knowing that your labor is not in vain in the Lord.
Jesus became the author of eternal salvation to all who obey Him.
Hebrews 5.8,9
8 though He was a Son, yet He learned obedience by the things which He suffered.
9 And having been perfected, He became the author of eternal salvation to all who obey Him,
Who has the right to teach less? When you teach, "accept Jesus as your personal savior," as all that is required for salvation, you teach less, much less. The idea of "accepting Jesus, as your personal savior" is fundamentally and totally against the principles of the Bible as the answer to salvation. Not to confuse, Jesus' life, death, burial, and resurrection are the central and key events in all of human history.
1 Corinthians 15.1-4 1 Moreover, brethren, I declare to you the gospel which I preached to you, which also you received and in which you stand,
2 by which also you are saved, if you hold fast that word which I preached to you—unless you believed in vain.
3 For I delivered to you first of all that which I also received: that Christ died for our sins according to the Scriptures,
4 and that He was buried, and that He rose again the third day according to the Scriptures, As pointed to in the previous section on Catholicism, the central message is an understanding that Jesus is the Christ and that the church is built on people making such a confession. Faith in Jesus as the savior is fundamental, and a personal relationship with Jesus is essential. The means for getting into that relationship and staying in that relationship consists of more than mentally accepting Jesus as your personal savior. In fact, where in the Bible does this phrase "accepting Jesus as your personal savior" appear? Of course, it is not there! Again, we ought to be wary of people who use such non-Bible terminology especially to teach the central component of their belief. It seems so innocent, but the result is serious error and the loss of that which is most precious. The use of non-Bible terms is a clue of false teaching.
It may be helpful for some to go to, "Conversions of The New Testament."

---